Training
Support Workers trained in-house in accordance with the latest guidance and legislation
As well as being a fully accredited care provider, we also have a well-established training division which ensures our support staff are always fully compliant and fully qualified to support the needs of your loved one.
We ensure all our support workers undergo regular up-to-date training in accordance with the latest guidance and legislation which takes place in our in-house fully equipped training room. If your loved one has a complex healthcare condition the support workers who will be providing their care will receive specialist training overseen by our clinical RGN lead who assesses their competency and provides ongoing supervision. Our in-house training division sets us apart from other care providers, as we have a wealth of knowledge and experience that we are able share with our passionate support workers, helping them provide quality care that meets all of your loved one's needs.
We are also able to offer our training services for external clients and staff. If you'd like to learn more about our training division and how we can help train your staff, read more here.
---
If you would like to find out more about the training our support workers undergo or if you would like to receive training yourself please contact the Care & Support team on 01702 361405 or email [email protected]
About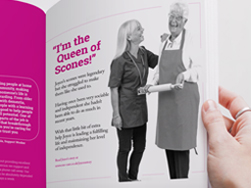 Download our brochure
And be the first to find out about our latest product news, offers, discounts and more.